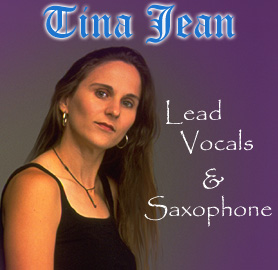 ---
Tina Jean (vocals/saxophone/guitar) - began performing together with Denise in college as members of the Southern Connecticut University Choir and Tina is also a member of Alt-Her-Ego.
If Purple Rain had a female lead character it would have been Tina Jean. She's multi-talented yet extremely level-headed for a rock n' roll musician.

"Tina has a voice you can never get sick of hearing!" --Chris Delfino (Field Of Vision).

Tina began her career as an actress/singer/dancer in such prestigious collectives as the Operetta Company in Fairfield County.
Her influences include, "The 4 elements, Earth, Air, Fire and Water".
---