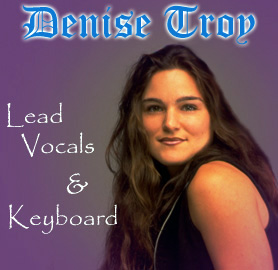 ---
Denise Troy (vocals/keyboard) - a high-energy performer and cross between Iron Maiden's Bruce Dickinson and country sensation Shania Twain.


"The girl has pipes!" -- Marc Amendola (Gargantua Soul)

Denise was previously the lead vocalist for Reckless, with fellow rocker John Bruno of XfactorX. Reckless received steady airplay on WPLR's local band show.
Denise's current side-project, Alt-Her-Ego, is a funk/R&B cover band that performs regularly throughout New England.
Denise started writing at age 9 and soon after won a talent show and a cruise to Jamaica. Her influences include Aretha Franklin, Madonna and just about everyone and everything else.
---